4 Tips for Communicating with a Senior Who Has Vision Loss Issues
In-Home Elderly Care in St. Louis Can Help
One area that can become more complicated for seniors who are losing their vision is communication. That might be surprising at first, but it's a definite issue.
Often times, in-home elderly care in St. Louis, with a reputable home care agency, can help the senior and the family with better communication.
Impaired Vision Affects Communication on Several Levels
There are so many non-verbal means of communication that most people use without even thinking about them. Facial cues, hand gestures, expressions, and even head shakes and nods are all a part of those means of communicating. If your elderly family member isn't able to distinguish those signals, communication is going to become a little more frustrating for her and for you.
#1 Announce Yourself and Your Actions
When you enter a room or your senior's home, it's a good idea to announce what's going on, what you're doing, and what will happen next. This doesn't have to be obnoxious or weird, basically, all you're doing is telegraphing what's happening so that your senior isn't surprised or startled. When you're going to leave the room, let her know that, too. That helps her to know when you're right there and when you're not, in case she needs you.
#2 Face Your Senior When You Talk to Her
Even if your senior can't see you well enough to make out facial cues and expressions, it's still a good idea to face her when you're talking to her. That ensures that your voice is directed toward her and that she's more likely to be able to hear you. If her vision is only starting to have problems, make sure that you don't sit with a light behind you. That puts your face in shadow and makes it even more difficult for her to see you clearly.
#3 Experiment with Lighting and Colors
For milder vision issues, your elderly family member may benefit from brighter lights and colors around her. When it's easier to distinguish the boundaries of objects and furniture, that is going to help her to navigate. It can even help her to stay as independent as possible by doing things like feeding herself, even with difficulty seeing. It's also going to be easier to help her to find things. For instance, you can let her know that her favorite mug is on the white table next to the red placemat.
#4 Get Some Extra Help
It may be time to enlist some extra help for your elderly family member, too. In-Home Elderly Care in St. Louis can help older adults with vision problems to navigate their environments safely. They can also take over tasks such as driving that have become unsafe for your senior.
Talk to your elderly family member's doctor and eye doctor about what else you can both do. There may be more elderly care solutions than you realize and that can help your senior to feel more empowered.
If you or an aging loved-one are considering in-home elderly care in St. Louis, St. Louis County, Franklin County, or Jefferson County, contact the caring staff at StaffLink today. We will answer your questions about in-home elderly care. (314) 997-8833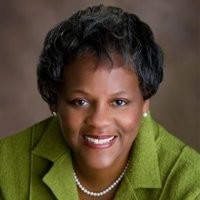 Latest posts by Gretchen Curry, MSPH
(see all)