Kind Words from Our Clients
Our St. Louis Home Care Testimonials and Reviews
Home Care in Wildwood for 12+ Years
"Ms. Cole has been taking care of my brother, Daniel G. , for at least 12 years.  From the very first day, she has shown the highest level of concern to making my brother's like more enjoyable.  She has been a blessing to our family.  God sent this young woman to care for my brother. You are extremely lucky to have her working for StaffLink."
John G., Wildwood, MO (May 2013)
Iris's Story- Home Care in St. Louis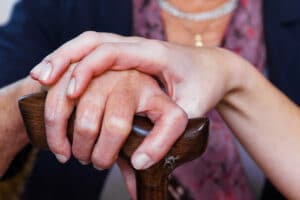 Iris's grandson's BaMitzvah was in a few days. Her daughter had a lot on her plate. The daughter had discussed with her husband about her anxiety about managing the event day, including getting her mother ready that morning and arriving on time. Her husband was familiar with StaffLink and called to see if we might be of assistance to the family. We were happy to accommodate them. Our caregiver went to grandmother's home, assisted her in grooming and dressing, and followed her daughters instructions to make sure her mother wore "ONLY" the clothes that she had left out for her! Our caregiver drove Iris to the event and attended the religious service and the party afterwards. On this day our caregiver was instructed not to wear scrubs and draw attention to her presence but to wear an appropriate "special occasion" outfit to blend with other attendees. It was a great day for Iris and her family!
Home Care in Kirkwood
"I engaged StaffLink for 24-hour in home care to assist me in caring for my husband.  He had a very extensive medication routine which they were able to manage quite well.  They were kind and caring and my husband was very comfortable with all of the staff. We had Mercy Hospice during this time and often the Mercy workers would ask me what private duty agency we were  using because they were impressed with the StaffLink caregivers.  I would highly recommend StaffLink to assist families in the time of need."
Barbara R., Kirkwood, MO (May 2017)
Pearl's Story - Hospice Care In St. Louis County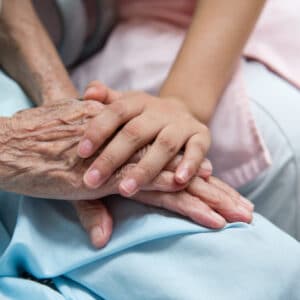 Recently we received a call from an attorney who had a 93 year-old client named Pearl. Pearl was really more than a client, she had attended the same church with the attorney for many years. She very fragile and was not expected to live for long. Pearl had recently entered a local hospital. Her church members were providing a significant amount of companionship at the hospital. Pearl had expressed anxiety to her trusted attorney about being alone at night. She did not want to die alone. StaffLink was able to help address Pearl's aniexty by providing caregivers from 9pm to 8am daily. Our caregivers said she was "lovely" . Pearl remained at the hospital two to three weeks. Our caregivers were present when Pearl passed. What an honor it was to help her feel secure!
Home Care in Kirkwood
"Gretchen and her staff provided the help we needed when my Mom was in hospice care.  Having someone there at the house to attend to her needs allowed my father and sister and me the ability to leave Mom so that we could work, take care of our families and ourselves.  This peace of mind and respite was an important element as we processed Mom's end life journey."
Susan B., Kirkwood, MO (November 2014)
Bob's Story - Supplemental Staffing in St. Louis County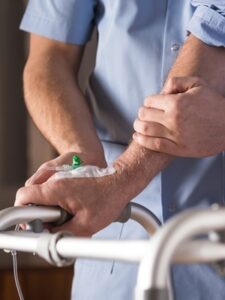 Bob was a semi-retired business executive in his 70s'. Bob was the founder of a St. Louis business with multiple locations. He was scheduled to have hip surgery. He was nervous about surgery because he had a friend die after similiar surgery due to a blood clot. He was very fearful of the symptoms of a blood clot going undetected until it was too late. StaffLink was able to address Bob's concerns by providing him around-the-clock RNs for 3-4 days immediately after his surgery. We also provided him with nurses for several days after he was discharged. Bob's post-op recovery went well without a hitch!
Home Care in Des Peres
"There are really no sufficient words to say how grateful the four of us children are for your amazing caregivers.  Thank you for taking such good care of Mom and us in the process. I have already referred you to two of my friends for their parents."
Lisa H., Des Peres, MO (March 2019)
Mr. and Mrs. Carter- Extra Care in a Nursing Home in St. Louis County
Mr. and Mrs. Carter were in their late 80s and a very close couple. Mr. Carter had been a well-respected St. Louis executive. In their retirement they had traveled significantly and supported many St. Louis non-profit organizations. The Carter's had no children. Mr. Carter suffered a very debilitating stroke, his speech and motor skills were irreparably affected. He was a tall man of sturdy stature even in his 80s. Mrs. Carter was tall, thin and frail, however was VERY capable for looking out for Mr. Carter. They had taken residence at a respected West County nursing home securing two private rooms across the hall from each other. After several months at the facility, Mrs. Carter contacted StaffLink because she want Mr. Carter to have one-on-one care. We provide care for Mr. Carter for several years at the facility under the watchful eye of Mrs. Carter. No conflict ever arose between StaffLink and the facility nursing staff.
Home Care in Kirkwood
"Thank you so very much for everything you did when caring for mom.  You gave of your hearts and helped us manage the many challenges.  We are so grateful.  All the best!"
Anna D., Kirkwood, MO (April 2017)
Home Care in Creve Coeur
"Recently I recommended Stafflink to a friend's family in need of home care. They were very impressed with the quick response and service options!  I highly recommend Stafflink!"
Terry O., Creve Coeur, MO (February 2017)
Home Care in Kirkwood
"I enlisted the assistance of the wonderful folks at StaffLink for over a year to care for my father.  I was SO impressed with the quality of the care he received with StaffLink, and with the staff's professionalism, the warmth and their caring attitudes!  I highly recommended them to everyone who could use their services!!!!"
Mary Ann S., Registered Nurse, Kirkwood, MO (February 2014)
Hospice Care in Webster Groves
"The personnel at Staff Link were so great during the last 2 weeks of my mother's life.   The company dealt with everything with compassion. I felt the love they had for her. Thanks for being there when we needed you. I would highly recommend them!"
Mary Beth T., Webster Groves, MO  (January 2017)