StaffLink is a Full-Service Home Care Agency in St. Louis
Because of StaffLink's desire to offer you and your family as much support as possible, our owner decided that our agency would be a full-service agency.  We are not a nursing "registry" which normally offers only limited support at the same cost of a full-service model.
What is a Home Care Agency?
The full-service model is the traditional model utilized by most of the home care and nursing agencies in the Midwest.  Please be sure to ask companies you are interviewing for consideration as a service provider if they are a registry or agency before making any final decisions.
In the full-service model, Stafflink's caregiver is an employee of our organization. We take care of ALL costs associated with being the employer of the caregiver, such as worker's compensation, unemployment insurance, employer taxes, and professional liability coverage. There are never insurance claims against your homeowner's policy or family personally due to onsite incidents.
If you were hiring a "registry" or an independent caregiver, any of the above claims would be against your homeowner's policy or family directly.
Please read further if you need more reasons why you should choose StaffLink home care services over a "registry" or an independent caregiver.
Hiring Caregivers Privately: Examples of Engagement Disasters and Other Considerations
Let us share with you real-life stories regarding the benefits and pitfalls based on the four claim types above.  This is important because the courts may consider you, the family, the legal employer of your "independently contracted" caregiver if you give them a specific or required start time, and tell or direct them on what you want them to do when they arrive. Don't forget that point.
StaffLink provides worker's compensation insurance to all employees.  We have had more than one caregiver injured on the job over the last thirty-plus years.  Most of these injuries involve missing a step in a home they are not very familiar with or a back injury from transferring a client.
These types of incidents could be your responsibility without coverage.
What Happens When the In-Home Caregiver Gets Injured?
One unusual situation we experienced involved a caregiver, a German immigrant, who broke her ankle by stepping in a pothole while out walking our senior client's beloved elderly dog.
The caregiver was unable to return to work for several months until her ankle was healed.
As a private family, if you are employing five or more caregivers independently to provide 24/7 coverage to a loved one, you are required to have worker's compensation insurance in the state of Missouri.
"I enlisted the assistance of the wonderful folks at StaffLink for over a year to care for my father.  I was SO impressed with the quality of the he received with StaffLink, and with the staff's professionalism, the warmth and their caring attitudes!  I highly recommended them to everyone who could use their services!!!!"
Mary Ann S., Registered Nurse, Kirkwood, MO (February 2014)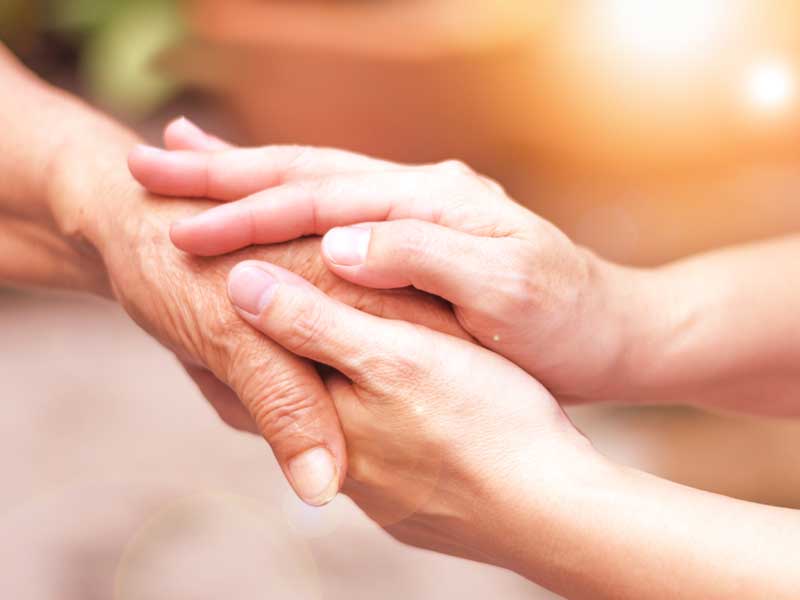 StaffLink provides unemployment benefits as the employer of our caregivers.
If your StaffLink caregiver is temporally out of work for any reason after providing services for your family, including the death of a family member, you are not legally liable for their benefits, we are.
The Unemployment Issue with Caregivers
StaffLink took over the care for two lovely, but frail elderly sisters in South City.
Their home was impeccable and was full of fine china they had collected through the years.  They had previously hired independently but had experienced some difficulties with the workers.
There were no children, nieces or nephews assisting them with managing their caregivers. One of their former independent caregivers filed for unemployment. 
These two sisters were required to report for an unemployment hearing, so that their former caregiver would not be awarded benefits by default.
They were confused and distraught. At this first hearing, the sisters were determined to be the legal employers of this caregiver, because they had told her what time to report to work and what they wanted done on the days she reported.
Your family is required to set up an account for reporting wage information to Missouri Employment Security once you have reached $1000 in wages in the state of Missouri.
The above situation opened a can of worms for the two sisters (and their former caregiver) regarding if they had or had not paid their required employer taxes for each of the caregivers whom they had formerly employed.
Private families and the independent caregiver are required to pay the designated federal and state taxes on the income that the caregiver is being paid.
In the end, the two sisters engaged an employment law attorney who was able to work with each agency and address their legal oversights.
StaffLink handles all required employee and employer taxes.
Professional Liability Coverage Issues
Finally, regarding professional liability coverage, let us share with you a story that demonstrates why you want to retain a home care agency that covers all staff with this type of insurance.
Some time ago StaffLink had a caregiver who was preparing dinner for her client on the stove.  The client needed her in another room, so she left the burner on under a pot and went to check on the client.  The task with the client took longer than expected.  When she returned the kitchen was on fire.  She attempted unsuccessfully to put out the fire with a fire extinguisher and both caregiver and client safely exited the home.
Our professional liability policy paid for the five-figure remodeling claim at this home.  Our client did not have to file a claim against their homeowner's policy.
Our former and current clients, families just like yours have been relieved to know that situations like the above or similar were covered by us.
StaffLink offers you customer service enhancements beyond the traditional offerings of other home care service agencies.
We manage the scheduling of your selected caregivers,
utilize software attendance alerts to manage unforeseen caregiver tardiness and attendance issues,
supervise your staff and handle personnel concerns,
provide you with competent last-minute replacement caregivers,
and provide courtesy Care Management oversight.
Additionally, and importantly, we will provide you with the appropriate documentation at the end of the year so that you can utilize your cost of care as a tax deduction.
Most independent caregivers are working independently so they do not have to pay taxes on their income.  In turn, you will not have appropriate documentation from the independent caregiver to claim services as a deduction on your income taxes.
To learn more about our unique programs, types of services, the clients we service or how to pay for services visit our other pages.
"The personnel at Staff Link were so great during the last 2 weeks of my mother's life. The company dealt with everything with compassion. I felt the love they had for her. Thanks for being there when we needed you. I would highly recommend them!"
Mary Beth T., Webster Groves, MO (January 2017)