Eight (8) Ways to Say "Thank You" to a Caregiver During the Thanksgiving Holiday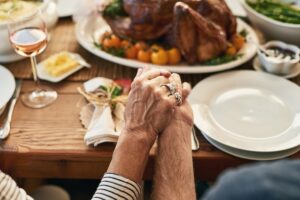 "What am I thankful for this Thanksgiving holiday?" You, like millions of other family members across America, may answer this question with, " I am thankful for our primary family or professional caregiver who helps provide care to our special loved one."
Millions of family caregivers and professional caregivers provide care on a daily basis for our family members. Seventy (70) million of them are family caregivers. Millions more are individuals who come into the home of your family member to provide paid one-on-one care. Some may be the caregivers you regularly see when you visit the senior community where a parent lives. Others may include the onocology nurse you go to for chemotherapy.
The Thanksgiving holiday is an ideal time to say, "Thank you, I appreciate the care you provide."
Here are eight (8) ways to express your appreciation to both family and paid caregivers:
1. Make or purchase Thanksgiving dinner or a special holiday dish for them. Preparing Thanksgiving dinner takes a lot of time and effort for a busy family or professional caregiver. Removing that task entirely or partially from your caregiver's list of things to do over the holiday may be appreciated.
2. Send a seasonal floral arrangement to their home. It is both thoughtful and shows your appreciation. It also adds seasonal décor to their home environment. The arrangement will surely boost their emotional and mental health.
3. Give a festive gift basket or charcuterie tray with high-end food items for the Thanksgiving holiday. Buy items that the caregiver might not normally consider purchasing but might really enjoy trying. Stuffed olives, dried fruit, meats, cheeses & crackers, nuts, preserves, etc
4. Write a heartfelt "Thank You" note. Written notes of gratitude are a lost art. It can be a short note or a longer letter. I am certain it will bring a smile to the caregiver's face. It will validate their decision to get up every morning to do the hard work of caregiving. Don't be surprised if this written note becomes a valuable keepsake.
5. Simply say it with words. Pausing and simply saying verbally how much you appreciate the care that is being provided to a family member is validating. Do it in person or pick up the phone and place a call.
6. Give a gift card. A gift card of any type will certainly be appreciated. Around this time of a year a gift to a grocery store is always on point. With the current gas prices, a gift card to a gas station will not go unused. Gift cards to stores like Target and Walmart are always timely.
7. Offer additional assistance. The primary family caregiver would surely appreciate additional assistance from time to time. Can you regularly schedule a day in which you are the substitute family caregiver? Are you able to pay for respite coverage once a week or more by a home care agency? Can you hire a housekeeper to come in on a regular schedule to handle ongoing cleaning? Can you take over an ongoing task for the caregiver such as grocery shopping, lawn maintenance, securing pharmacy items and durable medical supplies?
8. Purchase a gift focused on self-care for the caregiver. We are very big on reminding caregivers that they must take care of their own needs in order to be able to help others. A gift certificate to a spa or a gift basket with a focus on self-care items (lotions, candles, essential oils, tea, etc.) will not be wasted. Your gift, focused on self-care, is an excellent way to say, "I see you and value you."
Finally, family and professional caregiving is an important part of the fabric of America. It is something that any person and family benefiting from it, should acknowledge and recognize year- round. Thanksgiving is a special time each year to count our blessings. It is an ideal time to say to caregivers in our lives, "Thank you for the care you give year-round".
Happy Thanksgiving!
Looking for ways to show your gratitude? Check out this article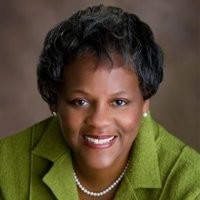 Latest posts by Gretchen Curry, MSPH
(see all)