Contract Nurse Hired by a Medical Staffing Client

Contract Nurse Hired by a Medical Staffing Client
Congrats to Donna C., RN! She has been hired directly by a StaffLink medical staffing client, a well-respected hospice provider.  Donna worked several weeks as temporary for the client through StaffLink before they made her the offer. She started as a "direct hire " with her new job on Monday, March 1, 2021.  StaffLink provides medical staffing to health care entities such as:
Hospitals
Medical Practices and Clinics
Senior Care Facilities and Organizations
Home Health Care Agencies
Government Entities that provide health care services
Healthcare Businesses & Providers
Events-Sporting, Theatrical, Musical & Other
Educational Institutions, such as Schools
Medical Staffing at StaffLink in St. Louis, MO? (stafflinkusa.com)
StaffLink's contractual agreements with our clients allows our clients to "roll-over" a temp employee from "temp to perm", after an agreed upon number of hours are completed. Staffing Options at StaffLink in St. Louis, MO? (stafflinkusa.com)
Sometimes, as in this case, a client elects to "buyout" an employee's contract before the required roll-over hours were completed.  StaffLink is always thrilled when a client is happy with a placement and desires to bring one of our temps on as a direct hire either via rolling their contract over or buying the contract out.
Donna started working with StaffLink in January 2021.  In 1995 she earned an Associates in Practical Nursing from St. Charles Community College. For the next 16 years she worked almost exclusively in the long-term care field.
She became a registered nurse in 2011 after attending and earning her Associates in Nursing from St. Louis Community College-Meramec. She said she was motivated to attend Meramec, to become a registered nurse in order to increase her employment options in the nursing field.  She was first hired as a hospice nurse in 2012.  Since that time, she has worked almost solely in this area of nursing.  She says she really has enjoyed "providing one-on-one care as a hospice nurse." She also finds it rewarding to work with "patients and their families at a critical time of need."
Donna has enjoyed working for the hospice provider and is excited to join them as a direct hire.
Donna says she found the administrative team at StaffLink, friendly and supportive.  She said Camelle and Evelyn were especially helpful.
Donna, take a bow! Thanks for representing StaffLink and yourself in such a professional manner!  We will miss you!
For more information on StaffLink's personnel options through our medical staffing services, visit  Personnel Options at StaffLink in St. Louis, MO? (stafflinkusa.com)
Two StaffLink Contract Nurses Hired by 2 Medical Staffing Clients! – Home Care in St. Louis by StaffLink | Senior Care | Home Health Care (stafflinkusa.com)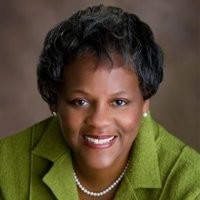 Latest posts by Gretchen Curry, MSPH
(see all)