St. Louis Home Care Owner Sews Face Masks for Caregivers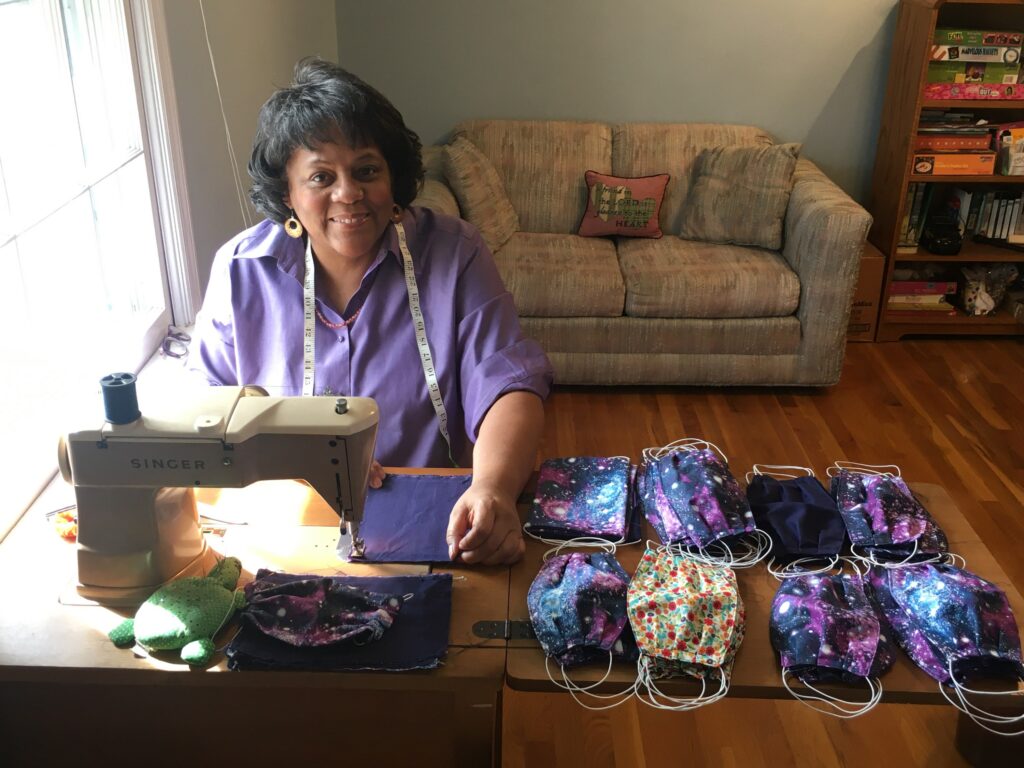 When the coronavirus began to spread across the United States, health care providers across the country scrambled to find personal protective equipment (PPE) for their "essential" caregivers. When Gretchen Curry, who is the Founder and President of StaffLink, a home care and medical staffing company, could not find what her staff needed, she decided to use a little known skill of hers to secure the required PPE. She decided to sew her own face masks.
Gretchen was not intimidated by the sewing skills required to make the masks. She began sewing when she was twelve years old. The first item she ever made was an A-line cotton skirt.
Gretchen is actually an extremely proficient seamstress and tailor. From the A-line skirt, she went on to sew and tailor very detailed trench coats, gray flannel suits and wedding dresses. As a High School student, she says, "I honed my skills by taking every sewing and tailoring class offered by the school's home economics department". She enjoyed sewing so much that she explored combining it with art, another love of hers. During her junior year in high school, she sat down with a St. Louis fashion designer and explored the opportunities to pursue a career in fashion design.
After graduating from High School, Gretchen attended Mizzou. There she finished an undergraduate degree in Speech Pathology and Audiology, and then a graduate degree in Public Health. She continued to sew and tailor for pleasure and make many of her own clothes. After graduating from Mizzou, while still in her twenties, she founded StaffLink. StaffLink has been providing home care and private duty services in the St. Louis region for over thirty-three (33) years. They have been providing medical staffing services in the region and across the country for as long.
Deciding to Make Masks for Home Care Workers
Gretchen says what intimidated her in considering taking on the task of making masks, was figuring out how to squeeze another necessary task into her schedule during this time of uncertainty. She, like home care business owners across the country were, and are, discovering that they need to pivot and modify how they have conducted business in the past, in order to stay viable and contribute to flattening the curve. The information about staying viable and pivoting is coming so quickly that she says she feels like, "I am drinking water from a fire hose."
After deciding to sew her caregiver's face masks, she realized many local stores that sold fabric had already shuttered due to the virus. She remembered Walmart sold fabric and made a Friday night run there to purchase several bolts of 100 percent cotton fabric and elastic. She purchased enough fabric to make 300 face masks. She dusted off her old Singer 401A (the 401A model was manufactured from 1957-1963) sewing machine and tackled the task! She learned to sew on her mother's 401A in the late 60's and later chose to purchase a used 401A for herself in the late 1970's.
Gretchen has now sewn dozens of face masks for her caregivers, administrative staff, and her own family. Due to the virus crisis at some long-term care facilities, some seniors are seeking to go home versus a rehab center after hospitalization, as a result StaffLink continues to admit new home care and private duty clients. Gretchen continues to sew a new batch of face masks each week, as they hire additional "essential" caregivers. StaffLink has recently opened clients from two hours per day to 24 hours- 7 days a week. StaffLink's medical staffing services have also signed new contracts to assist health care facilities with personnel needs during the crisis.
Ms. Curry says she found, that including prep time, each face mask takes her from 50-60 minutes to make. She is precise and particular about every detail of each face mask. She stated that she saw estimates for making a face mask in less time, but she has not been able to cut out steps and be satisfied with the outcome. She in fact added one step! She approaches the making of the masks in much the same way she approaches screening and vetting personnel for her agency and delivering services to her clients. She states, "It does not pay to cut corners in making masks or in recruiting personnel to service your clients."
She has received good feedback from her home care staff on the face masks. They expressed appreciation for the "TLC" that went into making them and loved how "the fabric choice complimented" their uniforms. They were distributed to the caregivers in zip lock bags with a note on top that sums up Ms. Curry's efforts and appreciation of her "essential" caregivers, "Made with care, distributed with gratitude!"
StaffLink would like to thank a volunteer, M. Bliss, who recently stepped forward to assist in the making of additional masks for the caregivers.
Latest posts by superadmin
(see all)