StaffLink Awarded Multi-State Nursing Staffing Contracts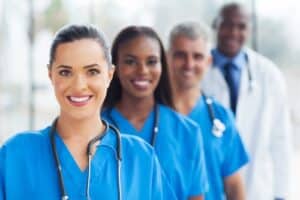 Medical staffing has been a significant portion of StaffLink's service portfolio since the business began in 1987. Some may not know that for nearly 30 years StaffLink has serviced medical staffing contracts outside of Missouri.
StaffLink has provided health care personnel from Alaska to Florida, from Washington state to the Carolinas and from Michigan to New Mexico.
StaffLink has provided nurse practitioners, registered nurses, licensed practical nurses, phlebotomists, medical assistants, certified nursing assistants, social workers, and mental health counselors to our customers outside of Missouri.
StaffLink has provided personnel on extended contracts, outside of Missouri via per diem staffing and as medical travelers.
In the recent weeks StaffLink has been awarded two new contracts in three (3) additional states to provide health care personnel. Those states are Kansas, Arkansas, and Oklahoma. StaffLink brought on new staff over the last several months to procure and support this growth.
StaffLink's local staffing business remains a strong and significant contributor to the company's stability. In recent months, StaffLink has assisted several local health care providers in securing both permanent staff and long–term temporaries for critical staffing areas.
Founder and President Gretchen Curry says, "Local and national staffing will remain an important part of our service portfolio. We love medical staffing! We are good at medical staffing!"
Latest posts by Katie Krenning
(see all)